Dog massage promotes health and wellbeing for Aussie Pooches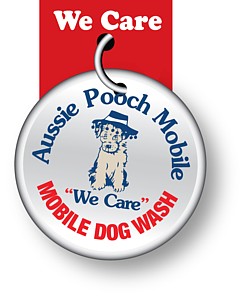 The health benefits of massage have long been recognised, and more and more people are turning to massage to cope with the stress of their daily lives to recover from injury, or purely just to pamper themselves.
And it is for the exact same reasons that Aussie Pooch Mobile has introduced hydrotherapy massage for dogs – 'Pooch Massage' – as part of the mobile hydrobath service.
"It is just beginning to be understood that dogs suffer the same kind of stresses as humans and benefit from massage in the exact same way, so we've introduced a new massage technique, using the pressurised water from the hydrobath. We use specially formulated solutions including aromatherapy oils, which also have the added benefits of calming your dog and helping with skin problems," says Christine Taylor Aussie Pooch Mobiles Founder.
Aussie Pooch Mobile was the first mobile hydrobath service to offer dog massage and Chris says the benefits are immense. Professionally administered dog massage assists in:
Maintaining health and wellness
Increasing blood circulation and eliminating toxins
Restoring range of motion and flexibility especially in dogs who have hip dysplasia or arthritis
Reducing recovery time after surgery
Increasing bone density
Helping alleviate pain
Soothing tired muscles after heavy exercise
Reducing injury time
Creating much-need physical contact
Making your dog feel fantastic
"The Aussie Pooch Mobile 'Pooch Massage' was introduced after vast research in Australia and in the USA on the benefits of dog massage. Operators have been provided with specific additional training and perform the massage using the hydrobath to gently, but firmly manipulate the muscles. It is relaxing and rehabilitating and is also a great way to pamper your dog."
ABOUT AUSSIE POOCH MOBILE
With over 175 franchises world wide, Aussie Pooch Mobile are the choice hydrobath operators for the care of your dog and the environment.
All products used are Environmentally Friendly which means they will not harm your dog, the operator or the environment. Products are all PH selected specially for dogs' skin to achieve the best possible results for your dog. Natural ingredients include pine oil, tea tree oil, rosemary, lavender, vitamin E, coconut oil and neem oil.
Aussie Pooch Mobile is the World's First and Premier Dog Wash and Care franchise system Visit www.aussiepm.com.au or phone 1300 369 369
http://www.facebook.com/AussiePoochMobile