DIY Dog Grooming and Clipping DVD # 1 - $59.95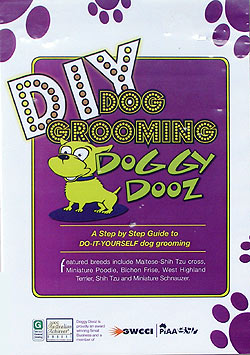 From award winning dog groomer Natalie West and the team at Doggy Dooz.

Step by step instructions on how to give your dog that "just left the salon" look.

Explained in easy to follow tutorials are:

- Equipment and Maintenance
- Safe nail clipping
- Preparation - five steps before bathing
- Bathing and drying
- Styling and shaping

Techniques can be applied to all breeds.

Perfect for beginners or the home groomer who would like a more professional finish.
Clipping is individually demonstrated on six featured breeds include:
- Maltese-Shih Tzu cross
- Miniature Poodle
- Bichon Frise
- West Highland Terrier
- Shih Tzu
- Miniature Schnauzer.
This DVD will pay for itself after only 1 groom!
ALL SHOPPING PRICES ON OZ DOGGY INCLUDE DELIVERY IN AUSTRALIA.
FLAT RATE AUD$11.00 TO US AND ANY COUNTRY OUTSIDE AUSTRALIA.

- Allow 3-5 days for Australian orders shipping from Port Douglas QLD 4877
- Allow 10-14 days for all international orders.