ToyBoy - Lost Whippet - Uploaded Oct 17 2011. Reward offered.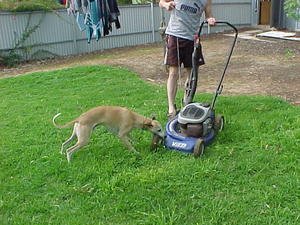 We have just moved into the area. Dog does not know area, bit through the temporary fence and dissappeared. Suspect a tourist picked him up and could be heading for a city by now. He has not been reported to local council. Have advertised in newspapers
Lost where and when
Edithburgh Windfarm area, Yorke Peninsula, South Australia Lost 5th October, 2011
About this dog
Light tan clour. Has some white on head. Horizontal scar on back leg and vertical scar below one eye. Answers to ToyBoy. Had red collar and tags but phone numbers were not up to date. Not agressive. Someone has picked him up last November. Missed and much loved.
Identifcation Tags or Similar
Red Collar and red tags. Reward
$1000.00 dead or alive - prefer alive.
Make an Enquiry