Desert Dogs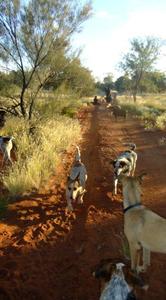 A program which brings young dogs from the Northern Territory to NSW and finding them new homes. The program, which rescues adorable desert dogs, is run by Warlukurlangu Artists of Yuendumu
https://www.facebook.com/Aussie-Desert-Dogs-630228040326598/
About our rescue
Yuendumu which is 293km northwest of Alice Springs on the Tanami Track where this dog program began, rescues adorable desert dogs, it is run by Warlukurlangu Artists of Yuendumu, the art work that you see on this site comes from here.
About our rescue service
Gloria Morales 'The Dog Lady' started the program TEN years ago when the township was over run with dogs.
Gloria Morales established the Desert Dog Project and says that "one of the most effective things we can do is to stabilise the breeding cycle and we have gradually halved the dog population, which has hugely improved the health and well being of the dogs.
Our aim
Their aim is to re-home these beautiful dogs. The dogs and puppies available have been saved, thanks to their rescuer and foster carer Gloria, and both she and Roz are now trying to find them permanent homes.
See Facebook page:
https://www.facebook.com/Aussie-Desert-Dogs-630228040326598/
Make an Enquiry