German Spitz Mittel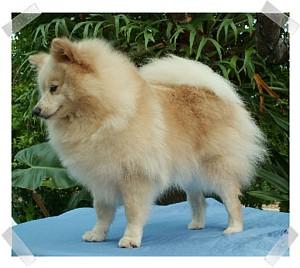 Breed description sourced from Fyreburst Spitz. Written and authorised by Brian Crump, BanjoSpitz, Sydney, Australia
About my dog breed
There used to be three allowed Spitz in Germany which were classified by colour; white, brown and black. Combined colours are only a recent development there.
In the days of Queen Victoria, Spitz were taken from Germany to England and since most were white and came from the German state of Pomerania, the dogs were initially called Pomeranians, and sometimes more recently they have been referred to as Victorian Poms.
It is thought that the breeding programme aimed to reduce the size until it had acheived the size we know today as Pomeranians.
So the name Pomeranian is used in two ways. Firstly, for the large white spitz popular in Victorian England, and secondly for the very small spitz we see today which are a descendant of the 'breed them small' fashion in Victorian times.
After WW1 and WW2, things German lost popluarity in the UK and in the 1970's a breeding programme was brought in to re-establish the Spitz - called now the German Spitz. Two sizes were allowed; Mittel and Klein. The Pomeranian in the UK continued during this time as a very small Spitz.
In Europe the modern day Pomeranian is a Zwerg Spitz - that is, just a very small Spitz, and so we end up with five sizes.
Written and authorised by Brian Crump, BanjoSpitz, Sydney, Australia.
and see also http://www.fyreburst.com
Make an Enquiry