HamiltonStovare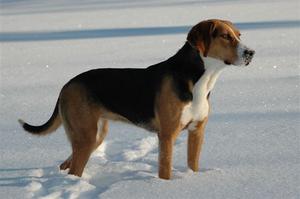 Take the journey with us and discover one of the Rarest Dog Breeds currently on Australian soil
About my dog breed
About 100 years ago, Count A,P. Hamilton created a breed that now carries his name. Count Hamilton was the founder of the Swedish Kennel Club and a connoisseur of hounds. The HamiltonStovare is the tallest and most strongly built of the Stovare breeds and was developed primarily from the English Foxhound/Harrier. Count Hamilton imported German hounds, like those of Hanover, Holstein and Curlandia, to cross with his British-bred dogs "Pang" and "Stella" and from these dogs came the HamiltonStovare.
Today the HamiltonStovare is a favoured hunting dog in Sweden. Since 1968, a few have been imported into Britain, where they are slowly gaining a pawhold and in 1999 Australia received their very first HamiltonStovare bitch when Kathy & Alan Stockwell imported the beautiful Tira from New Zealand. Her brother from a repeat mating shortly followed and in 2003 we imported Edward (Aust Ch Kilcavan T'Worlds Not Enuff) and Eloise (Aust Ch Kilcavan T'Sassy Seamstress) bringing the Australian population to a grand total of 4 !! 2004 saw a mating between Edward & Tira resulting in a surviving litter of 5 and in 2005 we proudly announced our first litter from Edward & Eloise - 8 beautiful thriving babies ...
The Hamilton is usually hunted singly, however they have been known to hunt in pairs - they are NOT "pack" animals and do not hunt as such. They accompany the hunting party into the vast Swedish pine forests, where they find and flush game back towards the guns, baying to indicate their own whereabouts. They have adapted to snow cover and are robust enough to trail large game. The temperament of a HamiltonStovare is sweet and gentle, they fit well into family life. However, the hunting instincts are strong and the need for activity is great. Those two factors must be kept in mind by any prospective owner. As they get older, a large amount of space is necessary for long walks. Owners have warned that, even when well trained, these dogs should be kept on leash in areas with game, as hunting instincts may override training. Once off on a scent, they will hunt for hours before returning to their original starting point, working up a hearty appetite - they have been described as real "chow hounds."
Where enough physical activity is provided, these hounds are happy, bouncy and extroverted pals which relate well to people and other animals. They thrive in a family environment and crave companionship, preferring the fireside to an outside kennel. With this sort of background it goes without saying that they can take as much exercise as you would ever be able to provide (as fully grown adults). Having said this, they can and do settle well into urban environments. Human companionship is the most important thing in their life. They are very intelligent and so are quite easy to train as long as you have that 'one on one' relationship with them. They are bred to hunt and so they are inclined to wander if not under supervision, so a fenced garden is essential (as with any dog). They are an excellent dog to bring children up with, as they as full of fun, while still being very patient. They become very devoted to their family and will defend them if they need to, but they lack the aggression to be considered as a guard dog.
As far as size goes they can be classed as ''small large' or 'large medium' (averaging about 22" at the shoulder). The HamiltonStovare are very easy care in the coat department. They have a thick undercoat, so when they are going through a malt, a rub down with a hound glove can help speed things along. Grooming time is a good opportunity to check over your dog for any impending problems e.g. fleas, rashes etc. and is a good 'bonding' time so should be done regularly anyway. They are a short coated breed and they are what is known as a 'BLACK BLANKETED TRI-COLOUR'. They have a black torso, which carries on to the back of the skull, and along the top of the tail. The head, legs underside of the tail and up the shoulders and hind legs is rich tan. The muzzle, feet, chest and tip of tail are white.
When it comes to food they are a typical hound (always hungry). This is a great aid in training, as bribery works wonders!! Do not be fooled by their hungry pleading expression or you will end up with an obese embarrassment instead of an eye-catching, stylish hound to be proud of. They are a very straight-forward breed. They do not generally suffer from the hereditary faults of many breeds and a re usually very healthy. They have no physical exaggerations in their build, and usually live to be around 13 years of age. HamiltonSt0vare can be trained to a certain level of obedience, but they will never compare with the likes of the Border Collie etc. We prefer to say that they can be a well mannered member of your family who you will be proud to take anywhere and introduce to anybody. Any love and affection you give them will be rewarded tenfold. They will be the best friend any child could grow up with, and the best child you would ever dream of.
Breed description provided by JODY & SHAREN BECK.
Make an Enquiry