Jack Russell Terriers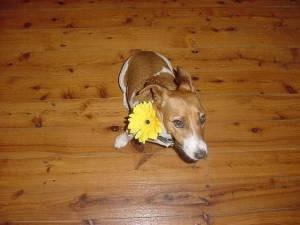 Jack Russell Terriers are a bold and fearless working dog, with a cheeky confidence. They were originally bred in England not for the purpose of killing game, but to be able to chase it and flush it out. Breed Description supplied by Paws on Paths
About Jack Russell Terriers:
(Please note that 'Jimbo', pictured, is not for sale.)
Ozdoggy would like to thank Paws on Paths (Sydney, North Shore Dog Walkers and more!) for this breed decription. Please visit their website www.pawsonpaths.com.au
Jack Russell Terriers are a bold and fearless working dog, with a cheeky confidence. They were originally bred in England not for the purpose of killing game, but to be able to chase it and flush it out. With this in mind, the Jack Russell is perfectly built for such activities. The body is compact and totally balanced, straight legs and a small chest. This body type allows them to be totally flexible allowing for easy movement underground, or in quarries ' as required by their masters in the 1800's.
The Jack Russell is a for ever happy dog, who is very energetic. They are loyal, intelligent and very assertive. No stone is ever left un-turned or sniffed in a Jack Russell's back yard. They are great little characters, who continually source entertainment for themselves. With this in mind - restless Jack Russell's require lots of exercise and play time, other wise they will resort to barking, digging, or pulling clothes of your washing line. As they we're bred to exists happily in a pack, socialisation with other dogs is a must.
Some of the most common health problems are: dislocation of the kneecaps, inherited eye diseases, deafness, Legg Perthes - which is a disease of the hip joints in small dog breeds.
They can become very possessive over their owners, and consider their owner to be 'their property'. Although this makes household duties slightly more enjoyable, with a Jack Russell constantly by ones side, to lend a helping hand. As working dogs, if they are not offered particular stimuli to help them live out their lives purpose they will seek it out in all the wrong places. Jack Russell's were bred to chase Fox's. So chasing games, tug-of-war, chasing balls, are all very important in a Jack Russell's life. Clubs in local area's should offer monthly meetings, where simulated situations allow Jack Russell's to participate in races, sports and importantly 'earthdog trials'.
Don't let the small and compact size of the Jack Russell Terrier fool you. They are not a breed that would be recommended to a novice dog owner. They require very firm training and discipline, and the same about of exercise as larger breeds, most individual Jack Russell's suffer badly from 'Little Dog Syndrome' as they have no fear in taking on a dog four times larger than its self, they can be aggressive with other dogs that they don't know, they don't take unintended mistreatment from children very well, they can be become destructive if left unattended, and they will remain this way through the majority of their 15 year life span!
If you consider a Jack Russell Terrier to be the right breed for you, please insure you speak with a registered breeder.
Make an Enquiry