Standard Poodle Breed Description.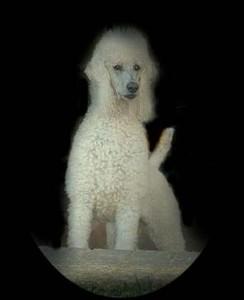 Standard Poodle FAQ's supplied by Kirada Lodge. Males tend to be larger than the females. A Standard Poodle is anything over 15 inches from shoulder. The average size for males is around 25 inches and a female 23 inches.
FAQ's about Standard Poodles:
Ozdoggy gratefully acknowledge Kirada Lodge for this information. Their website is www.kiradapoodles.com
Below are some answers to basic questions people have asked me over the years regarding Standard Poodles.
ARE STANDARD POODLES GOOD WITH CHILDREN?
Standards Poodles can be active and bouncy as a puppy. They usually do make great children companions, but as with any pet, children must be taught to treat their pet gently. In turn the puppy must be taught to be gentle with children. Any breed of dog can bite a child and it is advisable that small children should not be left unsupervised with any type dog.
CAN MY STANDARD POODLE LIVE OUTSIDE?
Any dog can live outside if they have to but with Standard Poodles it is advisable not to. They are very much a family orientated breed and enjoy human contact and life style.
CAN MY STANDARD POODLE SLEEP OUTSIDE?
Once again any dog can adapt sleeping outside but with Standard Poodles it is advisable not to. The Standard Poodle like the comfort of a comfy bed somewhere in proximity of owners sleeping quarters, usually the masters bedroom.
HOW BIG DO STANDARD POODLES GET?
As a rule of thumb with most breeds, the males tend to be larger than the females. A Standard Poodle is anything over 15 inches from shoulder and the average size for a male would be around 25 inches and a female 23 inches. However, there are of course exceptions for the individual to be smaller or larger than this.
WHAT COLOURS DO STANDARD POODLES COME IN?
They come in a variety of recognized colours from black, blue, silver, white, cream, apricot, red, brown and the various degree in shading. They also come in non recognized colours like the parti, phantom, mismark, and tuxedo in the above colours.
DO STANDARD POODLES SHED THEIR COAT?
The Standard Poodle is a non-shedding breed but can drop hair when they are freshly clipped and when they scratch.
ARE STANDARD POODLES NON ALLERGENIC?
This all depends on the person and how allergic they are to dogs. Sometimes it is not just the coat factor but the saliva of the dog which causes allergies. The Poodle can be an ideal pet as their coat does not usually irritate the skin. Remembering a dirty unkept coat can be a major cause to allergies.
DO STANDARD POODLES REQUIRE MUCH GROOMING?
YES - they are a very highly maintenance breed and require regular clipping every 5 odd weeks. Your Standard Poodle should be brushed and combed at least once a week. There is no excuse for an un-kept Standard Poodle. With out regular grooming and clipping you could end up with many skin complaints, ear infections, weepy eyes, swollen feet. Air needs to circulate through the hair down to the skin and if it is knotty this cannot happen hence bad skin.
ARE STANDARD POODLES INTELLIGENT?
Standard Poodles are among the most intelligent of breeds. They do learn very quickly. They tend to be quite sensitive to their owners moods and will adapt their approach accordingly. They will also challenge you to keep one step ahead of them as they require more intellectual challenges to keep them interested.
ARE STANDARD POODLES VERSATILE?
Yes they are - a Standard Poodle can excel in most performance activities from obedience trials, to tracking, search and rescue training, agility, service dog work, hunting to taking center stage in dancing to music. Almost anything is possible with a Standard Poodle given the correct and appropriate training.
WHAT AGE DO STANDARD POODLES LIVE TO?
The Standard can be expected to live between 10 and 14 years. I believe anything over 10 years is a bonus. We all want our pets to live a life time but we do need to be realistic.
FOR A PET, SHOULD I GET A MALE OR FEMALE?
This is a personal choice whether you want your Standard Poodle to squat or lift up the leg when relieving. When neutered young the differences in male and female personalities is minimal. The females can be a little more head strong than the males. I personally love the males.
HOW MUCH EXERCISE DOES A STANDARD POODLE REQUIRE?
When young exercise should be limited as their little bodies grow at an alarming rate and too much exercise can cause serious harm to the joints leading into life time trouble. Once they are an adult they require moderate exercise. If you do not have time walking around the block each day you can exercise your Standard Poodle by throwing a ball for about 15 minutes
Make an Enquiry