Mickey a dog we helped rescue
Please contact suppliers and services directly as to how COVID-19 may affect the way their products or services are delivered. Stay safe everyone!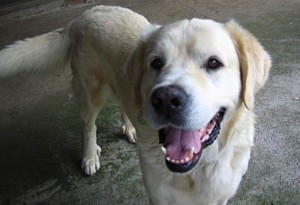 POSTED: March 3, 2006
Mickey is a very friendly 5 year old, desexed Labrador (possibly a Labrador Pyrenean Mountain Dog) who urgently needs a new home.

He loves human company, going for walks and playing . He's got a lovely nature, but could do with a little extra training.

He used to live with a cat and seems good with other dogs.

As he's a big dog (46 kg), he might bowl over small children, but would easily suit a family with older children.

UPDATE: Mickey found a new home.