Doglovers Show Melbourne 2014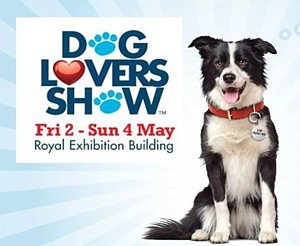 THE BIGGEST DOG EVENT IN THE SOUTHERN HEMISPHERE
RETURNS TO MELBOURNE
Australia's largest and most comprehensive event dedicated to educating, informing and entertaining dog lovers will take centre stage from Friday 2nd to Sunday 4th May at the Royal Exhibition Building in Carlton.
Over three huge days, over 250 exhibitors, more than 600 dogs and a pack of pooch experts, personalities and performers will descend on the venue to provide 20,000+ visitors with everything and anything dog related on a scale never before seen in the Southern Hemisphere!
The Dog Lovers Show is a family friendly event which celebrates the unconditional love we share for our dogs with expert seminars, dog shows from the country's most talented canines, information on all the off-leash parks in Victoria and literally thousands of the latest doggy products and services to reward your dog.
From dog adoption to hot dogs, there's talks on diet, training and exercise to the fun of watching Chester the famous skateboarding dog on Centre stage - the Dog Lovers Show offers something for all ages.

KEY HIGHLIGHTS INCLUDE
Discover all you need to know about adopting a dog in the Canidae Rescue Dog Zone
See, compare and pat over 30 breeds in the Royal Canin Breed Showcase
Agility, flyball, working, customs and trick dog shows and competitions in the Rose-Hip Vital Main Arena featuring Farmer Dave, Dr Katrina & The Wonderdogs
Kids will learn about dog safety and responsible pet ownership in the State Governments Pet Town
Learn more about your dog with over 20 free daily seminars, workshops and demo's on the KONG Centre Stage and in the Zukes Educational Seminar Theatre.
Buy the latest products & services to reward your pooch with new products, show specials & more
EVENT INFORMATION
LOCATION Royal Exhibition Building, Carlton, Melbourne
DATES Friday 2nd May until Sunday 4th May
TIMES 10am - 5pm Daily
ONLINE TICKETS Adults $20; Child (5 – 15) $10; Child (under 5) Free; Family (2 adults/2 Kids) $50
ON-DOOR TICKETS Adults $24; Child (5 – 15) $12; Child (under 5) Free; Family (2 adults/2 Kids) $60
Tickets available for Pensioners, Groups (6+) and Multi-Day
Detailed info or tickets visit: http://dogloversshow.com.au/melbourne/ or Facebook: www.facebook.com/dogloversshow