Dog Grooming Business DVD - $38.50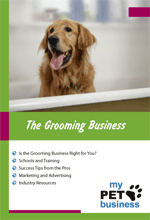 New Release. - Now Shipping!

110-minutes (plus free additional bonus clips!)
of comprehensive grooming business information. Learn from the top U.S National Certified Master groomers how you can start your career as a groomer today.

This 110-minute DVD shows you everything you need to know about starting a dog grooming business, beginning with grooming basics and taking you all the way to the latest in mobile grooming technology. This is the most comprehensive grooming DVD available anywhere.
MADE IN USA: You'll learn about grooming schools and how to start your own successful grooming business. Certified Master Groomers share their secrets to success and you what you need to know to get into this exciting and profitable business today. Demand for qualified groomers has never been greater and this DVD shows you the steps to take to get your business off the ground running today.

Here are just some of the 30 topics covered in our DVD:
-Training to become a groomer
-How to determine if a market exists in your area
-Zoning: how to get through the process
-The essential skills a successful groomer must have
-How to make sure your business is profitable
-The Mobile groomer
-Getting started: How much capital is required?
-How to determine if grooming is right for you
-Professional grooming equipment
A total of 30 topics are featured in this comprehensive
110-minute DVD. Our dvd is chaptered for easy reference.
You'll learn strategies, resources, the latest industry statistics, mistakes to avoid and much, much more.
Nancy Han
Certified Master Groomer
Owner, Dog's Best Friend Salon

Susan Sholar
American Kennel Club Judge &
Certified Master Groomer
STOP PRESS: Last unit sold and OUT OF STOCK Feb 19, 2011. Will advise when more here.
ALL SHOPPING PRICES ON OZ DOGGY INCLUDE DELIVERY IN AUSTRALIA.
FLAT RATE AUD$12.00 TO US AND OUTSIDE AUSTRALIA.