Pet Sitting Business DVD - $38.50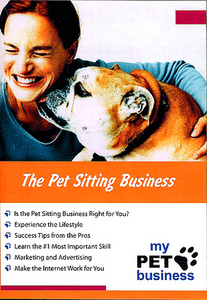 According to Entrepreneur Magazine, Pet Sitting is one of the top 10 business opportunities today. This dvd shows you everything you need to know about starting a pet sitting business, beginning with how to attract clients, how to manage your time, and how to expand your business to provide you financial freedom.
MADE IN USA: Demand for qualified pet sitters has never been greater and this 75
minute dvd shows you the steps to get your business off the ground today.

There is much more to professional pet sitting than simply walking and playing with your client's pets. Our dvd is also packed with industry resources and hard to find statistics on the Pet Sitting Business.
This dvd contains 26 chapters providing the most comprehensive information on the pet sitting business available anywhere.

Here are just some of the topics covered in our dvd:
-How to attract and keep new clients
-How to determine if a market exists in your area
-Advertising and Marketing
-What mistakes you must avoid
-Proper safety for the pets in your care
-How to make sure your business is profitable
-Getting started: How much capital is required?
-Other services you can offer which increase your income
-Much, much more...

Learn how to start your Pet Sitting Business today!

STOP PRESS: 2 units ex stock in Australia November 2010

ALL SHOPPING PRICES ON OZ DOGGY INCLUDE DELIVERY IN AUSTRALIA.
FLAT RATE AUD$12.00 TO US AND OUTSIDE AUSTRALIA.