Boarding Kennel Business DVD - $38.50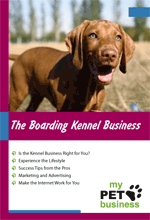 This dvd features expert advice from Jim Krack, Executive Director of the ABKA (American Boarding Kennels Association).
MADE IN USA: In this 55-minute dvd, we'll introduce you to all aspects of the boading kennel business. You'll learn from the experts who will take you step by step and show what you can expect as a kennel owner. They'll walk you through a typical day at their kennel and discuss such areas as marketing, operations, retail and advertising. This is dvd is a must for anyone considering opening a kennel.


Read what one of our customers has to say about the Kennel DVD:
"Hello! I wanted to let you know we already received and
watched the Boarding Kennel DVD. It covers every single beginner question we had. It is exactly what we hoped it would be! We can tell a lot went into making the dvd and we appreciate your offering it to people like us who are interested in starting a boarding kennel business. It has
been a perfect first step. Thank you."
STOCK CLEARANCE:: 4 units ex stock in Australia
ALL SHOPPING PRICES ON OZ DOGGY INCLUDE DELIVERY *** IN AUSTRALIA***
FLAT RATE AUD$12.00 TO ***US AND OUTSIDE AUSTRALIA***