September 2016 Newsletter
Hi from OzDoggy,
Welcome to our September newsletter.
(Sign up here to receive our 1 per month newsletter)
Following last month's 'how to stop excessive dog barking' newsletter, we're focusing this month on how to have a pet without owning one. See the advice page here that includes options like: raising or sponsoring a guide dog, volunteering as a foster carer, fostering a cat and wildlife rescue.
How to have a pet without owning one.
You're not in a position to take on a full-time pet but you know in your heart that a pet would be good for the kids.  You know that many studies have shown that children who have been brought up in a home that has a pet grow up to be more caring individuals, with more empathy toward other people and what is happening in their world.  You've also read that caring for a pet can teach a child how to be more responsible.  Despite all this you just can't commit to a long-term pet at this time or perhaps to the expense of one.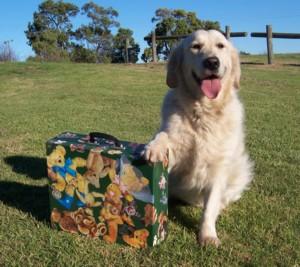 Mind dogs when the owners go on holidays
You can become a "Don't Fret Pet!" minder and mind dogs for owners who are going away.  You decide on the size and breed of the dogs that you want to mind and how often you want to mind.  You can take a break at any time so you aren't tied down.  The dog brings along its own food and accessories so you only need to provide a secure environment and lots of TLC.  The dog's average stay is 7-10 days.
This is also a great way to experience different breeds of dogs if you are thinking of getting one in the future.  You do need to have had dogs of your own in the past and be willing to allow the dog inside with you so that it is part of the family.  You are rewarded with a wagging tail and a small daily allowance which makes great pocket money for the kids and is a part-time job that they can do in the safety of their own home. 
Kind Regards
Paul @ Oz Doggy
www.ozdoggy.com.au