Dog Swimming Pool pricelist and more from Kepala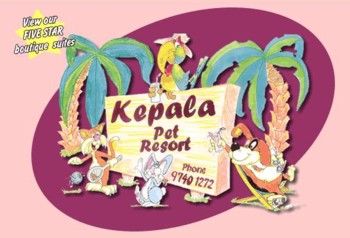 Current pricelist for Kepala pet Resort, Melbourne VIC, Australia.
SWIM PACKAGE –$ 11.00 / additional dogs $ 8.00
Includes use of swimming pool, & all out side activity areas.
PLAY & ACTIVITY – $8.00 for the 1st Dog / additional dogs $5.00
(Includes use of all outside activity areas only - excluding pool)
FRESH WATER RINSE- $2.00
Includes use of dryer if required. (In shower bays only)
Shower bay shampoo / wash - Large Breed $9.00
Small Breed $6.50
HYDROBATH- Large breed $16.00 (Labradors, Retriever, German Shepherds.Etc
Small breed $11.00 (Terrier's, Toy breeds. Beagles, Staffies)
Discount on additional family dogs using the same hydrobath, (50 %disc)
Includes herbal shampoo & conditioner, and the use of blow dryer.
$1.00 discount applies if owner supplies own shampoo. Own towels required.
Include the use of off leash grass exercise areas only.
SWIMMING LESSONS- $30.00 Includes use of outside activity areas.
PRIVATE TRAINING - POA (Agility & general Obedience) Includes the use of outside activity areas
Discount applies to customers using hydro bath or training service, if requiring the
Additional use of pool or activity areas may do so @ additional pet charge.
Valley View Café.
Also available espresso coffee, tea, cold drinks and (light snacks chips & chocolates), sit back relax and enjoy the valley and city views in our all weather café area, dogs welcome.
All areas are available for customers personal use, it is requested that if other customers are waiting, time for each area be limited to fifteen-minute sessions.
Kepala canine country club supports responsible pet care.
KEPALA CANINE COUNTRY CLUB
55 EDWARDS RD DIGGERS REST 3427
9740-1272
Mel Ref 3 A1
HOURS-9AM- 6PM DAILY (CLOSED WEDNESDAYS)
Later evening times may be made by appointment.
BOOKINGS ADVISED.